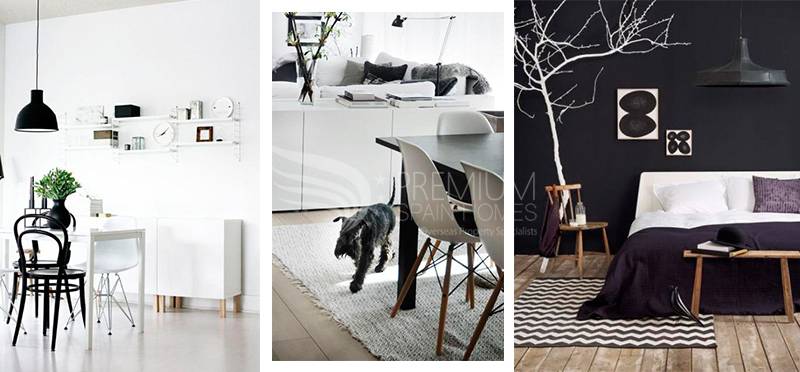 The black and white are two colors that fit perfectly: a marriage that has no crisis and that offers a wide range of decorative possibilities; an ideal way to give a new look to our home with new furnishings, fabrics and ornaments combination. The black and white are synonymous with elegance and minimalism and contrasts. It is a combination that brings light and brightness and an insatiable ability to combine with more vibrant colors like red, which many decorative to give your living room possibilities.
Combinations of both colors are endless. If the white predominates over the black, the house will be more minimalist and light. If, however, the predominant color is black, will gain in elegance and warmth. One option is to combine black walls and floor with black furniture. You can also apply any of the black wall color to enhance contrast and give a little more elegance to a bright home. A patterned fabrics in black and white also help you to give more life to the house without diminishing one iota of elegance.
In houses decorated like Black & White, accessories play a crucial role. Red, for example, give your home a more modern and edgy if you use air cushions, vases or candles. Other colors that blend well with white and black are the silver and yellow. The silver color is ideal for an extra touch of elegance and distinction to your stay. Yellow, meanwhile, will turn your home into a unique and personal place. One option solely for the more daring, is the fuchsia color, a tone that give style and personality to your home.