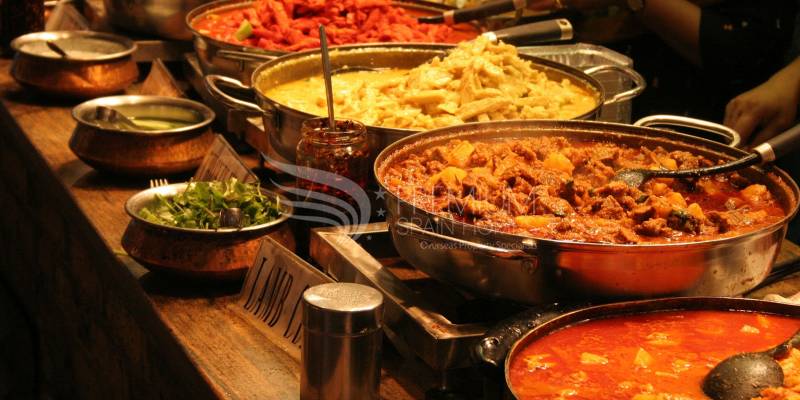 Located at Playa Flamenca Commerical Centre in Torrevieja, it is easy to see why Agra Place Indian Restaurant is so popular; it has the perfect mix of great atmosphere, excellent staff and good food. The restaurant offers a comprehensive eat-in menu, a take service and free delivery within the local area. The CoastRider went along at the weekend to enjoy the delights on offer. Despite having all out favourite dishes on offer the huge selection offered on the menu at Agra made the choice difficult, as all the dishes sounded good.
The choice of starts included soups and salads as well as the more traditional tikka, pakora, bhaji and tandoori dishes. The mains offered chicken, lamb or prawns served in a sauce of your choice including: masala, korma, pasanda, jalfrezi, bhuna, rogan josh, dansak, madras, vindaloo, phal, saag and biryani. Added to this there was a considerable vegetarian selection, chef's special recommendations and all accompanied by a choice of naan and savoury rices.
I chose the prawn puri to star followed by a chef's special dish of chicken tikka Jaipur. John opted for the mixed grill and a chicken karahi and we shared a garlic naan, special rice and a portion of Bombay Aloo.
Our waitress was not only friendly but had an impressive knowledge of the dishes, their ingredients and flavours and was happy to advise customers on their choice. We were served complimentary poppadoms, mango chutney, mint yogurt and spiced onion while we waited for our meal – which were lovely and light and non-greasy. The restaurant is pleasant and comfortable with a relaxed atmosphere. Most of the tables inside and out were busy adding to the general buzz.
My starter was a perfect size for me and had a real kick to it. The prawns were succulent and the sauce was thick and full of flavour. John's mixed grill arrived sizzling on a hot skillet and sampled chicken and lamb tikka, tandoori prawn and a kebab – a meat lovers dream.
The main meals were fragrant and well-presented and you could see as well as taste the difference in the sauces. The Jaipur was flavoured with ginger and coriander and was medium spiced the karahi was full of flavour and rice was the best special rice we have had for quite a while. The Bombay Aloo was perfect, soft fluffy potato and a delicious sauce (a definite must try). The portion sizes were good, with each dish served in a copper pot to ensure it stayed hot and the perfect presentation was enhanced by the fabulous flavours of each dish. Having sampled its delights it is easy to see why this restaurant is so popular with local residents and holiday-makers alike and if you haven't tried it yet you are missing out on a treat.
News provided by