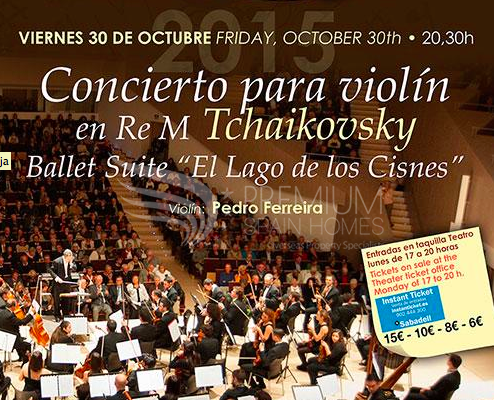 Next 30th October the Torrevieja Symphony Orchestra will play a monograph of Tchaikovsky, with the wonderful The Violin Concerto in D major, Op. 35. It was written by Pyotr IIyich Tchaikovsky in 1878 and it is one of the best known violin concertos, considered one of the most technically difficult works for the violin.
They will play the amazing Swang Lake Suite. Like soloist artist will act Pedro Ferreira, portuguese violinist with extensive experience in France or USA.
It is a special occasion to enjoy the best classic music in our city, in one of the most beautiful auditoriums.
You cant get the tickets at the Theatre ticket office or in instandticket.
Inspired by the Berlin Philharmonic, this Auditorium/Conservatory has become the town's most important cultural infrastructure, a true Conference Centre. This Auditorium is situated in a truly beautiful setting: The Alto de San Jaime, a hilltop with spectacular vies to the east and west of the La Mata y Torrevieja Lagoons, essential features of the Natural Park of the same name. It has a garden area covering 95,665 square metres and it is basically split into two areas: the Auditorium, with a symphonic hall for an audience of 1,450, a chamber hall with capacity for 385 people and a perimeter hall that joins both halls and also the Conservatory and buildings attached to the Auditorium to be used for higher education.