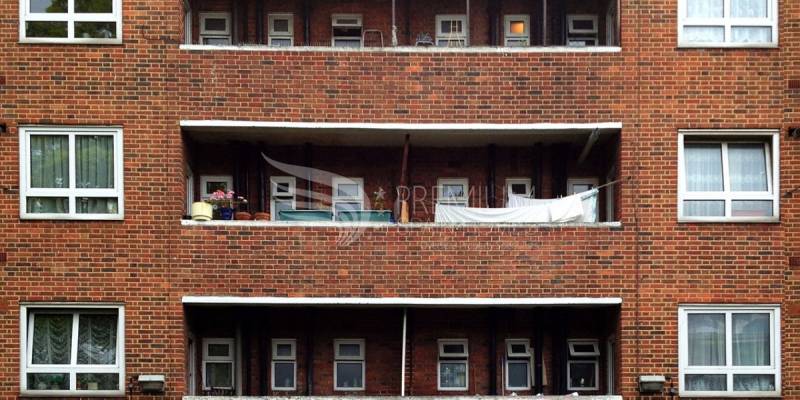 Above: Typically, the only properties available in London under £300,000 are one bedroom flats. Image from Pixabay.
UK House Prices vs Spanish House Prices
Most people realise that London is enduring the UK's sharpest increase in property prices. Since 2010, the average price of a property in England's capital has increased by a massive £195,420 to currently total £531,000.
Inspired by this, the Mail Online recently published an article evaluating where London buyers could purchase a property for less than £300,000. The results revealed that only two London Boroughs currently have an average house price of under £300,000: Barking and Dagenham and Bexley.
A precursory search of the main online estate agents provides further evidence of this. After setting the search parameters of Right Move and Zoopla to find properties priced £250,000 to £290,000, both sites only returned a handful of results. Of those, the vast majority are one bedroom flats with limited floor space.
On this evidence, £288,000 isn't likely to get you very much in the London property game.
Rest of the UK
Above: Family-sized homes are available within the £288,000 range in most other regions of the UK. However, prices are rising sharply. Image from Pixabay.
If you set the search parameters of Right Move to find properties priced £250,000 to £290,000 in Bristol, Norwich, Leeds and Birmingham, unlike London, it is clear you can purchase a family home close to the average UK house price.
In North East England and Northern Ireland, where property prices currently average £155,000 and £148,000 respectively, you can get even better value for your money. However, with prices expected to rise significantly in North East England, the East of England and cities such as Bristol, how much will a two, three or even four bedroom home cost across the UK in the future?
Above: New builds in the UK are the smallest in Europe. Image from Pixabay.
Researchers from the University of Cambridge have discovered that British families are living in the most cramped conditions in Europe.
After studying new builds across the continent, the researchers found that the average new home built in the UK is the smallest in Europe by floor space, measuring just 76 square metres. Perhaps unsurprisingly, the same research indicates that up to a third of all UK property owners are dissatisfied with the amount of space in their home.
With new UK homes now being half the size they were in the 1920s, modern property hunters are getting less and less value for money as time goes by.
Spain
At the time of writing, if you were to take the UK average price of £288,000 and convert it into euros, you would have just over €370,000.
In the Costa Blanca, where Premium Spain Homes specialises in helping Brits find their dream home, the average price of a property is currently (Feb 2016) €230,000 – that's just under £179,000.
In short: you can get more property for your money in the Costa Blanca region of Spain.
To illustrate this point, here are two properties currently listed on our site priced for around €330,000 (slightly under £257,000).
This modern detached villa boasts 3 bedrooms, 2 bathrooms, a terrace, large solarium, private pool, spacious garden and full home automation system. Furthermore, the property is only a couple of minutes' walk from the sandy beaches of Guardamar, and totals 435 square meters in floor space – which, as we've discovered, is 359 more than the average UK new build.
Villa in Torreta Florida, Torrevieja
For a starting price of €339,000 (slightly under £264,000), this spacious villa has four bedrooms, four bathrooms, a private swimming pool, solarium and a private parking space. What's more, the centrally located property is within walking distance of the sea and many excellent amenities, including a children's play park and an entertainment complex.
Final thoughts
Unsurprisingly, in London, the range of properties you can purchase within the UK house price average of £288,000 is limited. If there are properties available, the vast majority are one bedroom flats with very limited floor space.
If you broaden the search to other areas of the UK, you will find two, three and maybe even four bedroom houses available within a £288,000 budget. However, with prices rising significantly all over the country, how much a family home will cost in the near future is anyone's guess. Plus, with UK new builds currently being the smallest in Europe, modern property hunters are getting less value for their money than ever before.
In the Costa Blanca region of Spain, however, a budget of £288,000 (just over €370,000) can get you a much bigger and better property than in most UK regions. Consequently, many Brits – especially homeowners with a large amount of equity in their properties – are now investing in Spanish property.
At Premium Spain Homes, it's our job to help make buying your Spanish property as easy as possible. From Costa Blanca viewing trips that allow you to discover the area before you buy, to legal advice from qualified experts, we can offer advice and support along every step of the buying journey.
To speak to one of our multilingual property experts about helping you to find your dream Spanish home, contact us today.