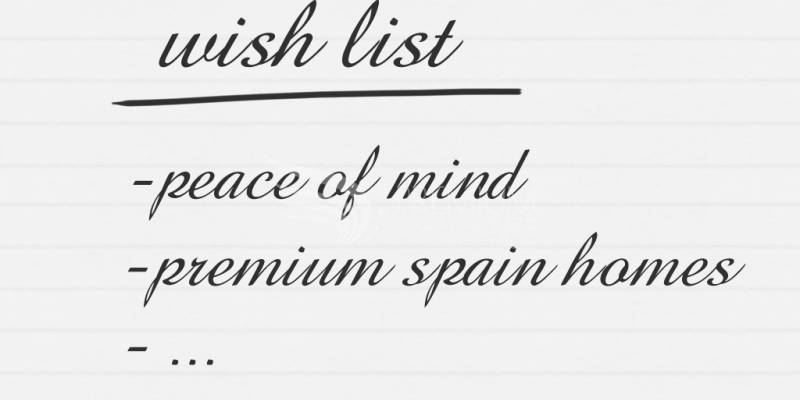 How to buy a sunshine retreat in Spain
I was speaking with a friend who lives on the south coast of England this week and he told me he had to scrape frost from his windscreen on the way to work early on Monday morning.
No such problems here on the Costa Blanca – it's been hitting 30 degrees regularly as we enjoy a warm start to autumn.
The weather and superb quality of life are the two big reasons people from the colder climes in Europe buy in Spain.
Now, buying a home in Spain doesn't have to be a daunting and stressful experience.
I've been helping people do it for more than 20 years.
Along with my team we've made living the sunshine dream a reality for thousands of people from across Europe.
It's our job to help people understand the process of buying a property here in Spain and something we genuinely love to do.
Complete Peace of Mind
The first step on the journey is to join us on one of our viewing trips. For more detailed information on the trips click here.
When you see a property you love and want to make an offer the process is simple.
If your offer is accepted the first step is for you to put a 3000 Euro reservation payment which is fully refundable if the sale doesn't go through.
This money is held in an escrow account and will be fully covered by our liability insurance which protects you up to the tune of 600,000 Euros.
The next step is for us to carry out all of the due diligence to ensure that all the property's details are correct and above board.
During the decades we've been selling homes in Spain we've built fantastic relationships with local property lawyers and other professionals.
We're with you every step of the way
This means we can recommend people with total confidence as we've been dealing with them for years and as we are all fluent Spanish speakers there's no language barriers.
Once all of the legalities have been formalised you're in a position to proceed to put down a 10 per cent deposit. At this stage under Spanish law if the seller pulls out of the deal after the deposit has been paid they must pay the buyer back double the deposit.
For example if you paid a 10,000 Euro deposit the seller on pulling out would have to pay you 20,000 Euros – it really deters any seller from changing their minds and ensures the sale goes ahead.
Usually transactions take around 45 days to complete.
Just before completion of the sale we'll meet with you and take you to the notaries to finalise all the paperwork and the final payment.
Help and advice when you need it
Unlike some agencies our service doesn't come to an abrupt stop once your keys have been handed over. We will be available where possible to advise you on any aspect of your new life in the sunshine.
We also produce a number of moving guides to help you make your journey to a new home and great lifestyle as smooth and as enjoyable as possible.
Thanks for reading and if you have any questions about what life's like in Spain, how to book a viewing trip with us or any other matter you need help with please do not hesitate to contact me or my team at anytime.
Geraint